It's possible to book the whole place for up to 20 people.  Or maybe book a pitch at one of our open weekends. This is a queer campsite like no other! Here is everything you need to know before you set off to enjoy your long weekend in the wild West Welsh countryside.
TOILETS: We have two lovely compost toilets at opposite ends of the Orchard. Serviced regularly, it is doing your business in a bucket.  We use sawdust to cut out any smells and, after a couple of years, use the compost on our fruit trees.  Humanure is fascinating!
SHOWERS: There are lovely gas powered hot showers in the Orchard. Glamour!
FOOD: There are a number of supermarkets nearby, but we may also be making some hot meals for campers to enjoy.
WATER: There's many cold water taps around for washing and drinking.
FIRE: There are many campfire spots around the place, and firewood available for purchase.
ELECTRICITY: Available for phone-charging only. No campervan hook-ups. A shared fridge/freezer is available at the Field Shelter.
TRANSPORT: Easy access for cars from the end of the M4, one of the first turnings off the A48. By rail the closest station is Ammanford, but Swansea station is the best connected – so consider our Shuttle service (see here for prices). If you are up for an adventure, you can alight the train in Llanelli and cycle on the National Cycle Network up through Tumble and Cross Hands to find us. For this, you'll be rewarded with a cheaper entry price.
PARKING: There is a limited number of spaces on site, so we encourage you to share lifts or consider public transport options if possible. You will be parked on grass with mesh underneath at the top of the Wildflower Meadow. We have wheelbarrows and the like available to help you get your tent and camping gear across to the Orchard, which is where most people set up camp!
Arrivals and departures
You can arrive anytime after 1pm on your day of arrival…
…and you'll need to leave by 11am of your day of departure.
Open weekend dates in 2023:
Fri 16th June – Mon 19th June

Fri 7th July – Mon 10th July

Fri 4th Aug – Mon 7th Aug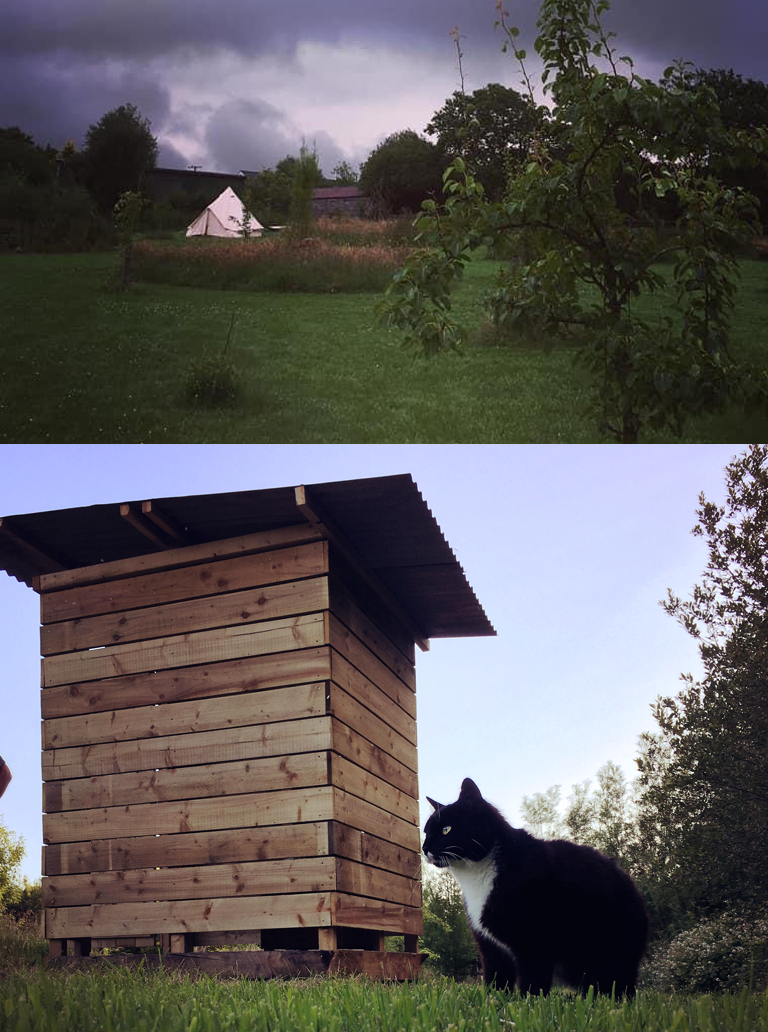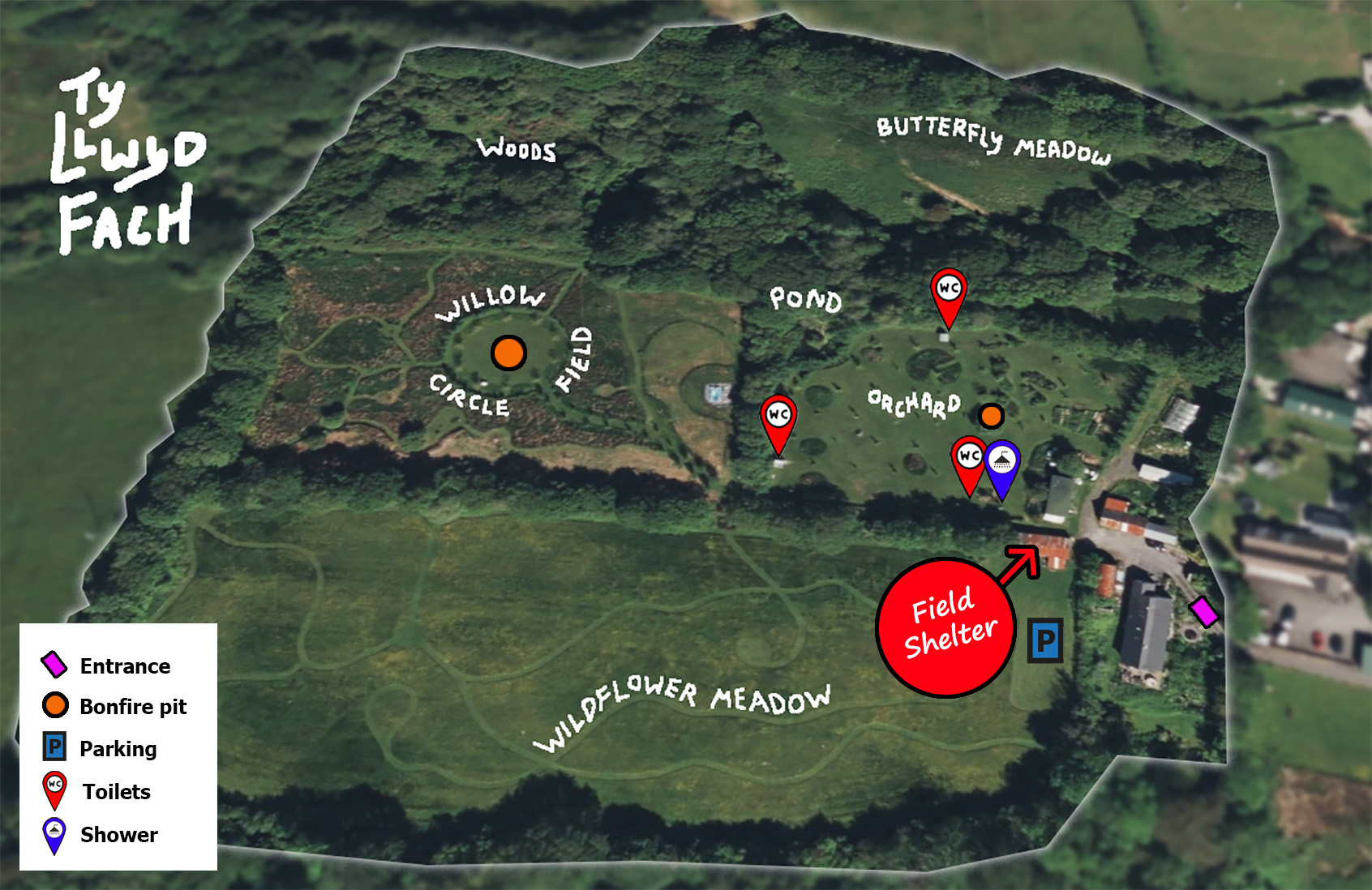 Camping FAQ
Can I park next to my tent? No, parking is in designated spaces away from camping. We have wheelbarrows if you need them.
Can I bring my camper-van/live-in vehicle? We can accommodate a maximum of two campervans on the courtyard.
Can I have access to a fridge/electricity/phone charger? There is a fridge/freezer and plug sockets in one of the outbuildings. Others may also be using this building so please appreciate this is shared space.
Is there indoor space? There are outbuildings with comfy, dry space. Others may also be using this building so please appreciate this is shared space.
What if it rains? It's Carmarthenshire so there may well be rain, there are various out-buildings but others may be using them too so please appreciate this is shared space.
 Can we have a party? It's fine to have songs around a campfire but we want you to respect the wildlife, neighbours, us… No broken glass and be mindful of rubbish please.  Any loud electronic music or drumming needs to end by 11pm.
Can I bring dogs? Very well behaved dogs are welcome if you can guarantee they won't go into other people's space because that's annoying for others. You must flick their poo into the hedgerow so it doesn't upset future campers.
Can I bring kids? This is an adult only space for the weekends that we are taking bookings.  If you hire the whole place then children are welcome.  You need to be aware that there are many risks around the farm, including deep water in the pond.
Can I hire the whole place? Yes – For the whole place, it's £199 per night (min 2 night booking).  This gets you exclusive use of the fields, up to 10 vehicles and up to 20 people.  Great value!
GET IN TOUCH
We'd love to hear from  you, happy to have a chat about your stay...