Ty Llwyd Fach is a campsite and farm focused on biodiversity, located near Cross Hands in South Wales. It is well located at the end of the M4.
Gwilym has been living at TLF (known to many as "queer farm"!) for nearly a decade now and takes inspiration for managing the land from the permaculture scene both in Carmarthenshire and further afield. 
One field is dedicated to cultivating wildflowers, and there is a large area at the north end of the site containing an ancient woodland which is the perfect breeding ground for a rare form of butterfly, the marsh frittilary. If you come at the right time of year, you may even see horses munching the grass in the butterfly meadow. The way that horses chew grass makes it perfectly suited for the butterflies to thrive. 
We have been welcoming campers to share the delights the land has to offer for a few years now. From Radical Faeries to Sham-Fam we attract an eclectic bunch of campers whose interests vary from wilderness to queer spirit, but they all have one thing in common: they love the sense of freedom Ty Llwyd Fach allows its visitors.
Find out more and answer all your camping related questions in our FAQ. Otherwise, read on below to find out what this land and its inhabitants have to offer!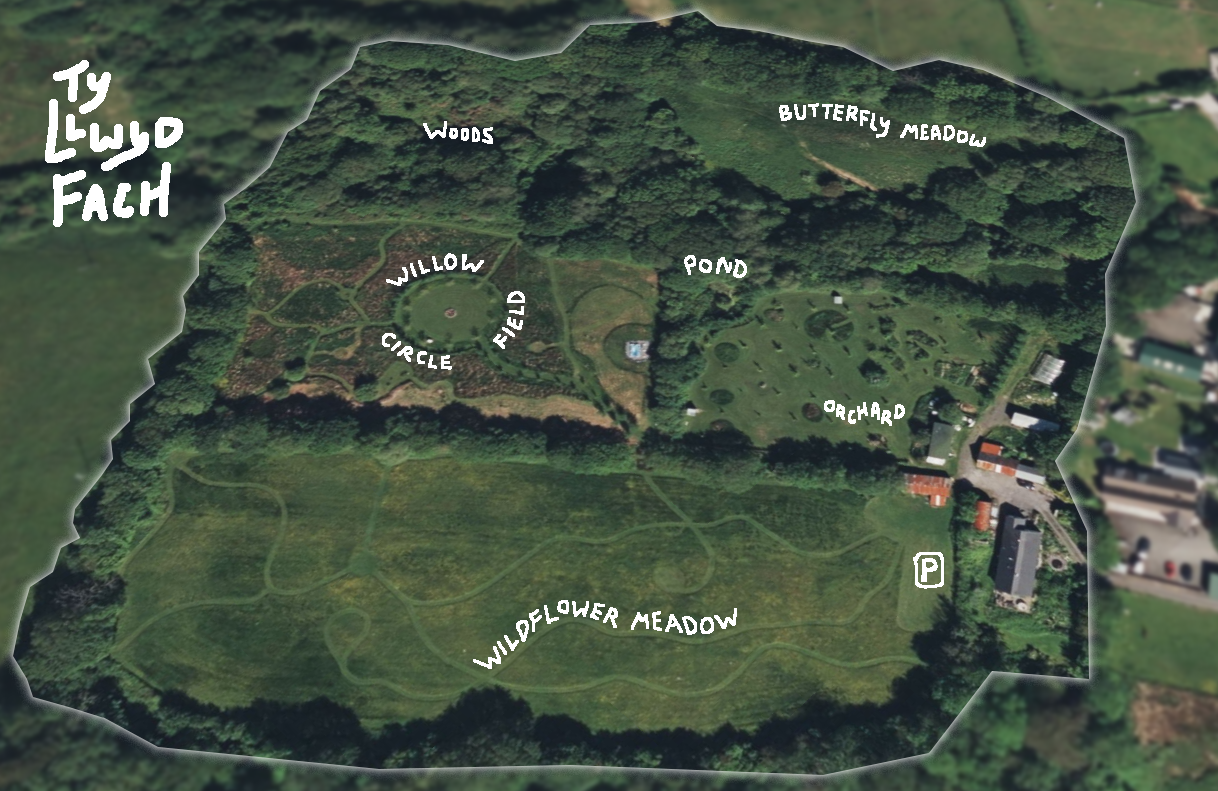 Willow Circle Field
A large circle of weeping willows around a large fire pit. 
Small paths, nooks and crannies around the field, managed for wildlife and excellent for hide and seek!
70+ meter walk from car parking space.
Reasonably level ground
Good for staying up late
Wildflower Meadow
A dynamic, beautiful, open flower-rich meadow.  Buzzing and chirruping insects. Orchids and yellow rattle, birdsfoot trefoil and meadowsweet.  Paths mown for a lovely stroll.  It's mowed each year – a changeable landscape. 
Closest to parking spaces
A mix of long grass and mown paths
Look out for the hammock
The pond
A magnet for wildlife and a peaceful place.  Teeming with frogs, newts, dragonflies and a nesting pair of lawn flamingos.
The Orchard
A beautiful pear orchard with mown camping pitches and circles of wild flowers. A living willow dome – great for shade and for cozy campfires- and easy access to the rest of the farm, this is the best place for tents!
Close to parking spaces
Two hot showers and two toilets
Reasonably level ground
The Butterfly Meadow
Rare, unimproved wildflower meadow with devils-bit scabious and betony.  Over the stream, it's a distant, wild experience. 
Home to many lizards and rare butterflies.
150+ meter walk across uneven ground and stream
Rough, tussocky ground
Sometimes ponies graze here
The woods
Ancient woodland, damp moss and ferns with a stream running through. Wild garlic and bluebells, oak, holly, buzzards, woodpeckers and dormice!
GET IN TOUCH
We'd love to hear from  you, happy to have a chat about your stay...